I gather the incongruous.  
The works are an expression of the myriad of possibilities offered by the limited materials available.
They are part of a game of seeking and gathering.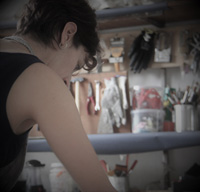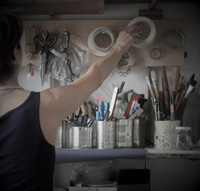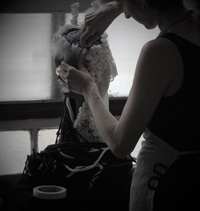 Artist and anthropologist. She obtained a Degree in Visual Arts at ENBAPP (National School of Fine Arts Prilidiano Pueyrredón), and then an Anthropology Degree at the University of Buenos Aires. Upon completion, she was granted a UBA Ph. D Scholarship to develop her doctoral research and in 2011 she obtained a PhD in Philosophy, with an orientation in Anthropology, from University of Buenos Aires.
Since 1990 she has had numerous solo exhibitions and more than forty group shows.  She published two books and several articles in international journals and started her career as college professor. In addition, as from 2003, she has worked ad honorem as scenographer for an amateur theatre group; between 2012 and 2015 she attended several scenography courses in Teatro Colón and Teatro San Martín.
In 2016 she reached a turning point in her artistic career and her art took a turn towards three-dimensional. Today she works in sculpture and installations, combining modelling, hand-knitting, cartapesta, carving and assembling with the reuse of various elements and materials. Currently participating in Project PAC 2019 (Contemporary Artistic Practices), Gachi Prieto Gallery, on  November 28th there, she'll be part of a grupal exhibition. She has been selected for the AADK Residency Programme at Centro Negra, Murcia Spain for July 2020.
She lives and works in Buenos Aires.